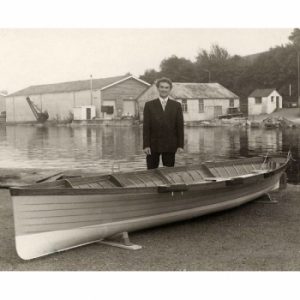 The tradition of boat building in Cornwall goes back many centuries. Generations of boat builders and shipwrights have used their skills and imagination to create boats that have become works of art as well as functional vessels.
Born in 1927 Vic Angove, master shipwright and traditional boat builder of Falmouth, started his apprenticeship at the age of 14 with Falmouth Boat Construction in 1943, following which he was employed as a shipwright by Siley, Cox & Company at Falmouth Docks from 1948 until 1973. He then worked for Dredge & Marine Limited at Ponsharden, Falmouth from 1973 until 1976. Dredge & Marine closed in 1976, which came as a blow to Vic, but it gave him the opportunity that was to change his boat building career completely when he became self-employed.
During his long and varied career Vic built and repaired all types of craft including motor torpedo boats, motor launches, gaff rigged sailing yachts, a 14ft double kayak canoe, all manner of vessels at the Docks, and various pleasure boats for local companies, even a Canadian Peterborough canoe. Vic was very proud to have built a 28ft Falmouth working boat; he almost completely rebuilt a 1912 35ft gaff cutter, and was building a 43ft yawl when he was forced to retire through ill health.
Among the boats that gave Vic the greatest pleasure to build were four 18ft flash boats for Penryn Rowing Club, built to his own designs. They were mostly top secret affairs because of inter-club rivalry. One of them, The Angof, was a clinker built design and was constructed in Penryn Rowing Club building on Penryn Quay. Building the Angof was an Angove family affair as Vic, chairman of the Club's rowing section for 21 years, was the designer and builder and his wife and children were the sponsors. Angof is the original Cornish spelling of the family name. (Flash boats were the subject of September 2012 Boat of the Month).
According to people who knew him, Vic's skills with wood were legendary. One of his clients remembers: "I soon learnt that it didn't feel like I actually employed Vic. It was more that I was in the privileged position of watching a master at work".
Vic Angove died in November 2001 after a lifetime of building beautiful craft.