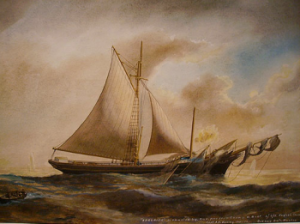 Reuben Chappell (1870-1940) is one of this country's best known ship portrait painters. An artist who spent his entire working life making portraits of ships for seamen, his work is in the best tradition of pierhead painting – painted not for galleries or art collectors, but for the men whose lives and livelihoods were intimately entwined with the subjects of the painting.
In 1904 he and his family moved from Goole in Yorkshire to Par, and he painted the ships that visited the clay ports. British and foreign vessels, sail and steamships, all came for cargoes of china clay. The rich tapestry of pre- and post- First World War maritime life was recorded by Chappell. He continued to paint throughout the war years, during which many of the subjects of his pictures were lost, giving the works an added poignancy.
Adelaide was built as a brigantine in 1869, by John Tredwen, at Padstow, for Fowey merchants Albertus and William Warren Dingle. Registered at Fowey in 1869, over the years she was run by a number of managing owners, including – Richard Prior Toms in 1877; John Merrifield from 1883; Charles Morris from 1890; Inkerman Tregaskis from 1896; and finally Albert Benny from about 1917. Benney also held an interest in the Fortuna of Truro, the Alert of Falmouth, and others.
Like most vessels based on small ports, many minor shareholders owned a little piece of her at different times. Typically in November 1877 – in addition to her managing owner, Richard Prior Toms (who had bought her from her two original owners the previous month), small parcels of shares of from 1/64th to 6/64ths were spread between a Draper; Ship Broker; Plumber; Spinster; Druggist; Widow; and two 'Teachers of Navigation.'
Adelaide was one of many coasting vessels attacked by U-Boats in WW1, whose preferred mode of attack was by gun fire, or short-fused scuttling charges – these small craft not being worth the cost of a torpedo. Their crews were usually given a few minutes to get clear before the submarine opened up with their deck gun, or boarded to place the time-bombs down in the bilges. Adelaide was attacked by gun fire on March 4th 1917, though Lloyd's War Losses for the First World War records the incident as occurring on March 5th.
This painting of her depicts this incident, with the helpless crew rowing away from their vessel while the submarine blasts away from a 'safe' distance. Lloyd's War Losses for WW1 record that after she was shelled '42 miles N.W. by N. of Cherbourg,' she did not sink, and was later towed into Brixham. She continued on the Fowey register until August 1924, when she was transferred to Falmouth by Albert Benney.