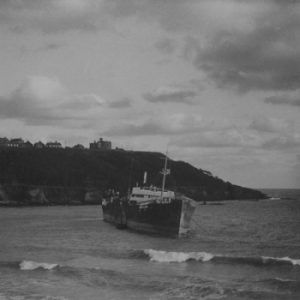 On Friday 19th January 1940, in heavy weather, the British steamer Kirkpool foundered on Castle Beach in Falmouth. The ship, belonging to Messrs R Ropner & Co., had been anchored out in Falmouth bay but had started to drag her anchor in the bad weather. A dramatic rescue operation ensued.
Edward Hayball was on board the ship that day. He tells us: "…in the middle of a blizzard, we anchored off Falmouth. I was at the wheel… It was blowing a gale and the snow was like needles when it hit my face".
"At 5 o'clock the next morning the ordinary seaman woke me; he was in a right panic and said: 'She is dragging,' – that is, the anchor wasn't holding."
The crew were raised and the Captain radioed for help. Unable to start their engines in time, the ship was stranded, unable to resist the drag on the anchor. Hayball tells us: "At about 8.15 there was a hell of a bump and a grinding noise, then more bumps, the benches were turned over, and the table. We ended up on the floor. We scrambled out on deck and could see we were well and truly on the rocks" A tug was sent to assist and tried in vain to help the stricken ship off the rocks.
Eventually the decision was made to abandon ship and the Falmouth lifeboat arrived to rescue the crew. A newspaper report of the time describes that the lifeboat was able to come alongside the lee of the boat, very close to the shore, and was able to rescue 14 of the 35 crew. The remaining crew worked with the tug to make another attempt to pull the ship off the rocks, but to no avail. Eventually the lifeboat made a second trip out and removed the final crew from the Kirkpool.
The crew were greeted with open arms by the people of Falmouth, many of whom had gathered on the beach and watched the drama unfold. Hayball describes the welcome: "The Falmouth people were very good to us; we were soaked to the skin and frozen…They gave us blankets to put around us, put lighted cigarettes in our lips… The British Legion… took us into a pub on the quay and the head man bought us a large rum and a pint on the Legion, and then another out of his own pocket."
The stranding on Castle Beach was not the end of the Kirkpool. She was eventually sunk by a German raider in April 1942 in the South Atlantic whilst carrying coal from Durban, S Africa to Motevideo, Uraguay. The 17 surviving crew were picked up by the German ship and were transferred to a Japanese prisoner of war camp at Fukushima.