Brynhild – an Uffa Fox Sailing Canoe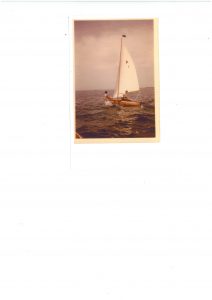 Brynhild was designed by Uffa Fox in the Autumn of 1935. Having already designed and sailed 17ft single handed racing canoes, he now wanted a boat that would not be so hard to work, but which would provide some exhilarating sailing at speed. He wrote: "I am now getting on in life, and have only a few more years in which I can really enjoy sailing so small a boat, in which in the least wind one is wet through all the while."
He designed the boat to have twin sliding seats and a slightly less extreme hull form than her smaller sisters, the additional seat providing sitting out capabilities for the extra crew member. She was very lightly built for ease of carrying by the crew. For the hull two layers of wooden veneers sandwiched a layer of oiled silk to aid waterproofing. Brynhild was built before the days of reliable waterproof glues; the veneers were fastened together and to their timbers by many hundreds of copper nails. A wooden drop keel was ballasted by 50lbs of lead. The rudder dropped down through a trunk in the hull, so that it could quickly be removed when coming in to shallow water.
In June 1936 Uffa and his crew embarked in Brynhild on a voyage from the Isle of Wight to the north coast of France, setting off with such essentials as a primus stove, tents, a jacket and pyjamas. In fresh winds they achieved speeds of 15 knots at times, but by the time they reached Cherbourg they were becalmed. The voyage took 12 hours. Uffa stayed in France for 12 days, racing and enjoying French hospitality before returning to England by train and steamer.
After Uffa sold Brynhild she was sailed for many years by her new owners in Chichester harbour, before eventually finding her way to the Royal Canoe Club who donated her to the Museum in 2004.
Length overall 20ft
Beam 4ft
Draught 4ft 9 ins
Displacement 650 lbs
Sail area 130 sq.ft